Peter Yates Print Shop
NEW PRINTS AVAILABLE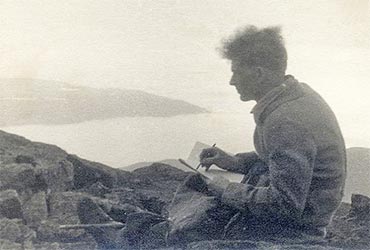 Peter Yates Snowdonia, c.1943

Peter Yates
19 July 1920 – 16 November 1982, was a British born artist and architect. He was a founder partner (alongside Gordon Ryder) of the architectural company
Ryder and Yates,
based in the North East of England.
[ref 1]
Early life and education

Peter Yates was born in Leytonstone, East London in 1920. In 1925, at the age of five, he won a painting competition in
Chicks' Own
.
[ref 2]
He attended Wanstead School from September 1934 to July 1936 and painted a mural at the school called 'Events at Sea'.

In 1937 he worked as a model and furniture maker. Model bungalows he built were shown at the April 1937 Ideal Home Exhibition. From January 1938 until April 1941, Peter attended the Regent Street Polytechnic, studying architecture under
Sir Hubert Bennett
and
Peter Moro
.

World War Two
Peter Yates served as a volunteer fireman on the
St Paul's Watch
during the London Blitz in early 1941, during which he painted Wren's churches. While drawing in Ludgate Circus, he met the antiquary and architectural historian,
Gerald Cobb
, and they became lifelong friends.
On 19 July 1941 (his 21st birthday) Peter Yates joined the RAF. Serving ground duty, he was stationed in Wales and Ireland. In 1944 he traveled to Versailles with the
Supreme Headquarters Allied Expeditionary Forces
to establish a radar transmitting station. Peter Yates was in Paris in early 1945, where he met many artists and writers, including
George Braque
[ref 3]
,
Édouard Pignon
,
Jaime Sabartes
,
Juliette Greco
,
Leon Gischia
,
Gertrude Stein
,
Alice Toklas
,
Andre L'Hote
,
Sylvia Beach
and
Le Corbusier
.

St Paul's Cathedral, Peter Yates
©
1943

Early Architectural Practice


Whilst the war had curtailed his architectural studies, it's ending opened up new opportunities. These included:

An enthusiastic invitation from Le Corbusier to work with him on plans for a new
UNO
building in New York.
[ref 4]

Designing the Pyramid Project for the
New Crystal Palace
with Clive Entwistle at
Ove Arup
's office, Soho 1947.
[ref 5]

A member of the Masterplan team for
Peterlee
new town with
Berthold Lubetkin
in 1948 (where Peter Yates first met Gordon Ryder).
[ref 6]

In 1950, Peter returned to Paris as Chief Designer at
Unité d'Informations Visuelles
[ref 7]
, a commercial art studio located in the Old Alhambra night club in the gardens of the Champs Élysées. From here, Peter worked on new exhibitions across Europe. These included
Europa Zug
[ref 8]
and Atoms for Peace. (this included collaboration with
Pierre Boucher,
from whom Ryder and Yates later commissioned murals for Norgas House, Killingworth).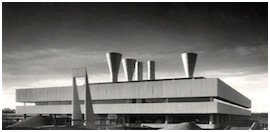 Ryder and Yates: Salvation Army 'Men's Palace', 1974. Engineering Research Station, 1967. Amberly House, 1967.
Key Influences
Peter's main influences were
Le Corbusier
and
Berthold Lubetkin
. Others were inspired by his friendships, for example with
Austin Wright
,
Kenneth Rowntree
and
Diana Rowntree
,
Dennis Flanders
.
Peter Yates nominated and successfully campaigned for Berthold Lubetkin to be awarded the
Royal Gold Medal
for Architecture, which came to fruition in 1982.
In 1976, Peter Yates arranged and curated an exhibition of Le Corbusier drawings and lithographs at the
Ferens Art Gallery, Hull
arranged to coincide with the 1976 RIBA Conference, which was held in Hull.
Personal Life
In 1958 Peter Yates married musician Helen Maud Southgate from Otaki, New Zealand. They had five children. Helen died in 1972.
In 1976, Peter married his second wife Gillian Jessica Eden. Gilly died in 2015.
Peter Yates died in 1982.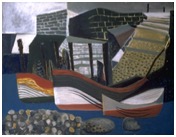 Swan Yard Thaxted, Peter Yates
©
1953, Cod and Lobster Pots Staithes, Peter Yates
©
1955, Boscastle, Peter Yates
©
1956
Greetings Cards of selected Peter Yates paintings at ODE Chair
Prints of selected Peter Yates paintings are available for purchase